First Page
Venus is the brightest planet in the Solar System and can be seen even in daylight if you know where to look.  When Venus is west of the Sun, she rises before the Sun in the morning and is known as the Morning Star.  When she is east of the Sun, she shines in the evening just after sunset and is known as the Evening Star.
0 Comments
Read more...
The Goose with the Golden Eggs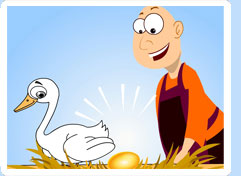 Once upon a time, a man and his wife had the good fortune to have a goose which laid a golden egg every day. Lucky though they were, they soon began to think they were not getting rich fast enough.
They imagined that if the bird must be able to lay golden eggs, its insides must be made of gold. And they thought that if they could get all that precious metal at once, they would get mighty rich very soon. So the man and his wife decided to kill the bird.
However, upon cutting the goose open, they were shocked to find that its innards were like that of any other goose!
MORAL: THINK BEFORE YOU ACT
0 Comments
Who's online
We have 124 guests online
User Login
UPPOD multimedia Player
To see in full screen double click on the screen or click on its button.
Polls
Random users
admin
asgharal
WebPilotDubai
DavidImite
Nelsonlync
GeorgeLew
Hakim
Kotofeichhet
MarcosSek
Animib
ArtOfBeautywen
eidy
Optiob24
Lichertdiot
Elizabeth
dmsh
JgsepxDor
rainbow
aseman
lazartzdhu
OliverPt
08303
milad
HatthewEa
ATalaAltenia
ZterveKnot
Miguelgoks
ClintonDut
211211
Ronaldtig